---
The workshop
These are things I've made, or experimented with, and works in progress.
From flowerpot to charcoal forge
I have been interested in knife making for at least three decades, but only in the last few years have I made any serious effort to actively pursue any part of the craft. I finally built a charcoal forge out of junk I had sitting around, which has become the inspiration for the title and main reason for this website. I suppose you could call this upcycling, to use the politically correct term.



---
As you can see, I started with an old clay flower pot. I figured that might be refractory enough to hold the heat, and for the most part, it is. I added two clay drip saucers, one for the base and one for the firepot. This material is really quite soft, and so I was able to cut and shape it using an old wood rasp and carbide bits in my Dremel tool.
Dremel tools
are wonderful things. Everyone should have at least one.
I used one tray for a base, attaching it to the pot with machine screws and nuts. You'll notice there's a large hole in the base of the pot. That was a false start, when I first thought to use the pot itself as the base, turning it upside down and bolting the firepot on top. This was a bit too unsteady, so I fiddled with it a bit, and found that if I flipped it over and used a second tray, I had a removable firepot. Then, it was just a matter of getting air to the fire. I cut three slots in the tray (as it turned out, I only needed one) and started scrounging together the blower.
In my junk collection, I found a piece of 2" thin walled steel pipe and a working hair dryer, the plastic exterior of which had not survived a fall from the bathroom sink counter. Yanking out the motor and squirrel cage blower assembly, I found that it actually fit perfectly inside a piece of 4" ABS plumbing pipe (I have a rather large junk collection). For a base, I picked out a scrap of 1/2" plywood. I didn't have a box for the toggle switch, so I hollowed out a piece of scrap 2x4. The switch plate is made out of Sculpy polymer clay. it actually worked pretty well for this. An odd choice, I'm sure, but that's what I had on hand at the time. A couple of sections of hardwood dowel provided pillars to attach the motor/damper mount, a piece of scrap aluminum stock. The damper is cut from a scrap of acrylic sheet. Those odd white bits are sculpture repair compound (it came in handy recently, when I cracked the corner off of the switch plate). It makes a wonderful filler material, and sets up like concrete. I'll put a link to the product in here when I can remember what it's called.
| | |
| --- | --- |
| | If you look closely, you'll notice that the firepot is cracked. That came from trying the forge out the first time with just the clay saucer with no lining. While the material can certainly stand up to the heat, it didn't heat evenly. It produced a bell like tone when it popped. It didn't break in two, and as it cooled the crack closed up, so rather than start over I decided to try adding more thermal mass. I'm lucky enough to live in an area with clay soil, so I dug some up from the back yard, screened it, and mixed in some water to make mud. The side walls were added later, built up over a small piece of hardware cloth, to prevent the coals from being pushed over the side. It would have been a bit sturdier if I'd added fine straw or similar to the mud, and that's what I'll do when I get 'round to building a bigger version, but I've found this one to be satisfactory for most small projects. |
Add a few hammers from yard sales, a couple of tongs from the antique mall, and a few different scrap steel shapes for anvils, and you have a small blacksmith's shop. The whole thing comes apart and can be stored on a shelf in my shed.
a (very) little something for an old macbook
I recently acquired an old Macbook. After playing with it for about a year, I can say that I found the world of Apple disappointing. I'm from the Linux universe, and I will soon be turning this laptop into a Mintbook. That's for later. When I first got it, I decided I needed something a little better than electrical tape to deal with the built in webcam privacy issue. I'd started learning Blender around that time, and had just discovered
Shapeways
. It seemed an obvious project, so I made a
webcam cover
.
---
It's a simple slip fit on the lid. There isn't any space at all between the lid and the track pad button when the lid is closed, and I don't move the machine around much, so I just remove the cover when I close the lid. I placed a radiation symbol button on it for no particular reason other than it was good practice and makes it easy to get hold of the cover. I won't be doing any Blender tutorials here, as I am still a newbie who spends a lot of time looking at tutorials. I'm not qualified to create them. A very good source for those interested in learning is the
Blender Guru
.
This is available at my
shapeways store
. I'll be posting other creations like this one from time to time, and may post them to Thingiverse for those who have their own 3D printers.
Powered by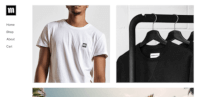 Create your own unique website with customizable templates.